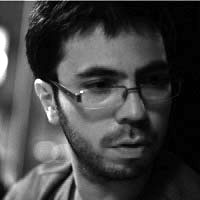 In real life I am specialized in wireless wiring or as people usually call it, electrical engineering- telecommunications. Maybe specialization is a bit of formal word for what I do, which is an unending struggling for an elusive PhD, somewhere in Montreal or Concordia University to be more precise.
In the life that I prefer to talk about it more, I mostly read, sometimes write, infrequently take photos and rarely say anything worth mentioning. What I read ranges from literature to linguistics, mathematics and when I'm a bit drunk, to philosophy.
I left my hometown, Tabriz in Iran, almost 8 years ago and since then I have been wandering through the green woods.