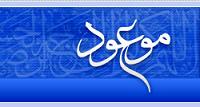 We have heard about Mahdi's, the twelfth Shia' Imam, accounts. According to Shia's, he went into occultation (Ghayba) after his father (Hasan Askari) death. Shia's believe that one day he will return and then fill the Earth with peace and justice.
Besides the official Shia' view, what do modern historical studies of early Islamic sources tell us about Mahdi beliefs?
In this Cafelite session we are going to review contemporary scholarly views on origins of messianic ideas in Islam. We will see how these ideas have been shaped during the first four centuries of Islam, the history of Kaysniya and Muhammad Hanafiya as the first Shi'a messianic Imam. Other Shia Imams who considered as Mahdi such as Abdullah Ibn Muawiya, Jafar Sadiq, Musa Kazim, ....
We review the history of final formation of Shia' doctrine and development of beliefs to Twelfth Imam as the Occulted Imam. We are going to compare the official Shia' view and modern historical studies. Finally, we are going to talk briefly about views of other Islamic sects such as Sunnites and Ismaili Shia's on Mahdi.