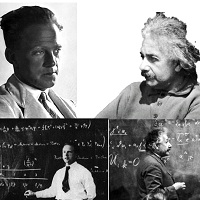 One longstanding question from the ancient times is the true nature of space and time. New progress in frontiers of theoretical physics has made it possible to re-ask these questions in the modern time .
What is space and/or time? What are they made of? Is space a primary concept or a derived entity originating from more fundamental "stuff"? How does space look if one looks at it with a very.. very.. very.. powerful "microscope"? Will it look fixed or seems foamy and uncertain?
Modern physics wants us to combine uncertainty of the quantum mechanical world with the certainty of the classical everyday reality.
The combination is deadly: the quantum theory of space-time...Everything looks good, except that such theory does not quite make sense..or at least it seems so.
In this talk we will go on a journey into the heart of space and time and the quantum theory to see where humankind stands in her quest in formulating the observed universe.