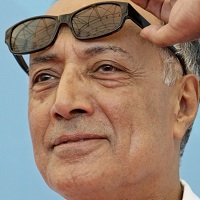 is an internationally acclaimed Iranian film director, screenwriter, photographer and film producer. An active filmmaker since 1970, Kiarostami has been involved in over forty films, including shorts and documentaries. Kiarostami has received worldwide acclaim for his work from both audiences and critics, and, in 1999, he was unequivocally voted the most important film director of the 1990s by two international critics' polls. Four of his films were placed in the top six of Cinematheque Ontario's Best of the '90s poll. He has gained recognition from film theorists, critics, as well as peers such as
Jean-Luc Godard
,
Nanni Moretti
(who made a short film about opening one of Kiarostami's films in his theater in Rome),
Chris Marker
,
Ray Carney
, and
Akira Kurosawa
, who said of Kiarostami's films: "Words cannot describe my feelings about them ... When
Satyajit Ray
passed on, I was very depressed. But after seeing Kiarostami's films, I thanked God for giving us just the right person to take his place." Critically acclaimed directors such as
Martin Scorsese
have commented that "Kiarostami represents the highest level of artistry in the cinema." In 2006,
The Guardian
's panel of critics ranked Kiarostami as the best contemporary non-American film director. He is known for his characteristic use of techniques and themes that are instantly recognizable in his films.What are these characteristics that make him as one of the best directors in the world? We will talk about this issue this week.