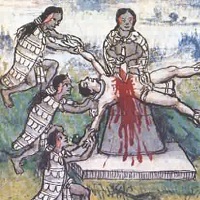 In a modern society, the ritual of sacrifice is usually regarded as a primitive custom which is barbaric in nature and contributes to the prevalence of violence in social interactions. The current narrative of modernity reinforces the attitude which claims to replace the physical violence with the apparatus of rational thinking as the means of communication and resolution of social disputes. Introduction of novel concepts such as punishment perfectly structured by the thinkers of enlightenment era for the purpose of maintaining the public order and de-escalating the violence also calls the vitality of such an ancient practice into question.
Yet, a closer look at the historical background of this violent practice, analyzed in light of anthropological studies and literary criticism, leads us to conclude that the ritual of sacrifice might unveil "things hidden since the foundation of the world" upon which the mankind civilization has been established, and they are still in effect under the rubric of punishment and moral judgment in the modern community as the guardian of the public order and morality. In other words, deconstruction of the ancient myths and famous works of literature challenges the credibility of modernity's fruits and suggests that the ritual of sacrifice, unlike its cruel appearance and inherent violence, serves the community as the pillar of the social structure, and the modern of institution of punishment seems to be an evolved model of the same ancient practice.
This presentation also proposes that the interpretation of social values and the validity of moral judgments are deeply rooted in the sacrificial mechanism, and the recurring specter of sacrificial violence is still haunting our conscience. The presentation will make some references to influences of sacrificial thinking over contemporary works of art and literature.

Farhang Ganjedanesh recieved his Bachelor's degree in Law form Shahid Beheshti University at 2008 and his LLM in International and Comparative Law from George Washington University at 2010. Currently he is with McGill University for an LLM on Jurisprudence and legal anthropology.