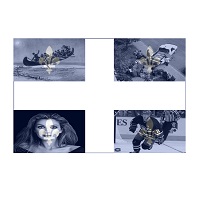 you can find the video of the session at the bottom of the page.
Quebec is the only region in North America with a French-speaking majority and it's also one of the only two provinces in Canada where French is constitutionally recognized (the other one is New Brunswick). That singular geopolitical condition makes its culture unique and distinct in North America. Although most of the newcomers will soon be acquainted with the outline of Quebec's culture, to master and decode its day-to-day intricacies takes time. From Céline Dion to Mes Aïeux, from une poutine to un pâté chinois, from CEGEP to CLSC, we will help you to answer those aching questions : who is who, and what is what, in Quebec everyday culture?

Paul Dumais was born in Montréal in 1962 and has lived in his hometown ever since. Far from being an authority in social sciences, he nonetheless knows and loves his native Québec. He is also an admirer of the persian civilization and since 2006 he has been studying the Persian language, slowly but steadily. Among other travels, he went to Iran in summer 2008. Paul earned his Ph.D. in mathematics from Université de Montréal in 2002 and is currently teaching mathematics at Collège de Rosemont.
Culture of Quebec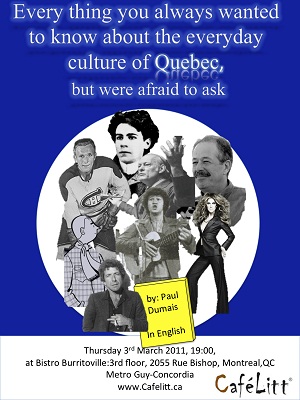 Political History
Movies
Songs / Song writers / Singers
Theatre
Literature
Poetry
Comedy
Graphic novel
Visual arts
People
Tale
Other links