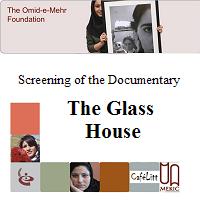 Screening of the documentary
"The Glass House "
(Directed by Hamid Rahmanian) Followed by an open discussion on
NGO
's and humanitarian projects in Iran
The fringes of Iranian society can be a lonely place, especially if you are a teenage girl with few resources to fall back on. The Glass House follows four girls striving to pull themselves out of the margins by attending a one-of-kind rehabilitation centers in uptown Tehran.
Forget about the Iran that you've seen before.
Projection d'un documentaire
" The Glass House "
Suivi d'une discussion libre sur le rôle des
ONG
s et projets humanitaires en Iran
Au sein de la société iranienne, une adolescente avec peu de ressources
peut être facilement isolée et rapidement marginalisée. Le documentaire "The Glass House" suit quatre jeunes filles qui luttent pour s'en sortir et améliorer leurs conditions de vie en fréquentant un centre de réhabilitation à Téhéran. Après la vision de ce film, vous regardez l'Iran autrement !
فیلم مستند
خانهٔ شیشه‌ای
روایت چهار دختر نوجوانیست که با کمک
مرکز امیدمهر
در تلاشند تا خود را از منجلابی که ناخواسته در آن قرار گرفته‌اند نجات دهند، حال آنکه آغوش جامعه ایرانی‌ پذیرای این قشر آسیب پذیر نمی‌باشد. بیایید ما به عنوان بخشی از این جامعه، ایران را از دریچه ای دیگر بنگریم