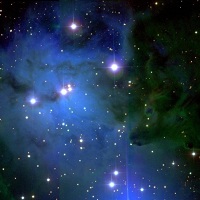 Every time we stargaze, we are humbled...We start contemplating about our "cosmic origins": Where do we come from? Was there a beginning? Will there be an end?
One of the most astonishing discoveries of humankind in the past century, is to reveal that we live in an expanding universe..
Confusingly, the expansion of universe seems to be accelerating!! This has been perplexing physicists. It will have unthinkable consequences. In particular, it implies that the vacuum itself, or the state of "nothingness", should have some weight!
Is "nothingness of vacuum" made of "something"? Is the vastness of Cosmos, filled with "some dark stuff" that physicists have just begun to comprehend? Did Einstein get this right? Or we need to ...?
In this talk, we will share our confusions.

Dr. Omid Saremi
Post Doctoral Fellow in physics at McGill University