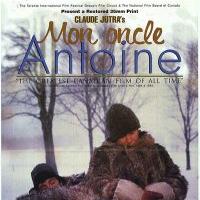 We at Cafe Cinema are happy to announce that "Cinéma Québécois, 4 of the best movies of all time 4 you" is our New program! The history of cinema in Quebec started on June 27, 1896 when the French Louis Minier inaugurated the first movie projection in North America in a Montreal theatre room. However, it would have to wait until the 1960s before a genuine Quebec cinema industry would emerge. Approximately 620 feature length films have been produced, or partially produced by the Quebec film industry since 1943.
Mon oncle Antoine is a 1971 National Film Board of Canada (Office national du film du Canada) French language drama film. Québécois director Claude Jutra co-wrote the screenplay with Clément Perron and directed what is one of the most acclaimed works in Canadian film history.
The film examines life in the Maurice Duplessis-era Asbestos region of rural Québec prior to the Asbestos Strike of the late 1940s. Set at Christmas time, the story is told from the point of view of a 15 year-old boy (Benoit, played by Jacques Gagnon) coming of age in a mining town. The Asbestos Strike is regarded by Québec historians as a seminal event that led to the Quiet Revolution. Jutra's film, thus, is viewed as an examination of the social conditions in Québec's old, agrarian, conservative and cleric dominated society that gave birth to the dramatic social and political changes that transformed the province a decade later.
After the screening, there will be a round table for discussion and Q&A with Gilda Boffa (Master degree in film studies) , Morad Sadeghi ( Student of master program in film studies) , Alain Jacques Chouinard, (Master degree in film studies) Paul Dumais (Cinephile), and Bardia Saadi-nejad (Independent filmmaker / film critic)