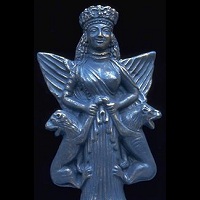 Anahita is one of the major deities of Iranian Mythology. Aredvi Sura Anahita (Arədvī Sūrā Anāhitā) is her name in the Avestan language; it means "the humid, strong, pure and immaculate one ".
Anahita is a pre-Zoroastrian goddess of water, abundance, blessing, fertility, marriage, love, motherhood, birth and victory. She embodied the physical and metaphorical qualities of water. She is also associated with rivers and lakes, as the waters of birth. Many of the surviving temple structures that were dedicated to her are connected with water, and perhaps all sources of water were considered to be her sacred places. She also ruled over semen and human fertility. She was viewed as the "Golden Mother" and as a warrior maiden.
Anahita was very popular. She was an independent and powerful Goddess, not dependant on any male agent for her authority. It was her water that brought fecundity to the land, and her influence that brought fertility to animals and humans. She is one of the forms of the "Great Goddess" who appears in many ancient eastern religions (such as in Mesopotamian and Vedic mythology).