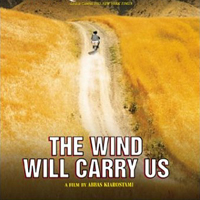 Alternative content
Download audio
As you better may know, the twelve session program of "Iranian Cinema Through the Ages", our monthly video screening sessions at "CaféCinema" is already over!
However, we at CaféCinema would pleasurably like to announce that we will have two more special sessions. The first one with the honorable presence of Professor Peter Rist, the former chair of "The Mel Hoppenheim School of Cinema" at Concordia University as the presenter will be Abbas Kiarostami's masterpiece "Bad ma ra khahad bord" (1999), aka "The Wind Will Carry Us".

To avoid overlapping the Christmas holidays, exceptionally this session will not be on the last Sunday of the month; it will be held on Sunday 20 Dec 2009 instead.

Peter Rist's (Professor,Ph.D., New York University, 1988) areas of research interest include silent American film, Brazilian, Cuban, Korean, and Chinese (including Hong Kong) cinemas, the films of Ford and Jansco, and the history of film style. He has presented his critical work on Asian cinema at numerous conferences in North America and Asia. He has published on Canadian, third (world) cinemas, East Asian, contemporary American and experimental film, as well as performance art. He is the author of several books such as South American Cinema: A Critical Filmography, 1915-1994, was published in 1996 and appeared in paper in 1998 (University of Texas Press). He has also edited an encyclopedia on Canadian cinema entitled A Guide to the Cinema(s) of Canada (Greenwood Press, 2001).

Plot Summary:
A group of journalists and production engineers arrive in a Kurdish village to document the locals' mourning rituals anticipating the death of an elderly woman, but she remains alive. The main engineer is forced to slow down and appreciate the lifestyle of the village. He who stayed at the village with great enthusiasm for the burial of the old woman finds nothing interesting in the ceremony at the end.
| | |
| --- | --- |
| Directed by | |
| Produced by | |
| Written by | |
| Starring | Behzad Dorani |
| Cinematography | Mahmoud Kalari |
| Distributed by | New Yorker Films |
| Release date(s) | 6 September 1999 (Venice Film Festival) |
| Running time | 118 min. |
| Language | Persian |
SESSION WILL BE CONDUCTED IN ENGLISH
Entrance: 5$ (this will be for 2 sessions. If you have participated the previous session, you can just show your last ticket. Tickets for 5 sessions and 10 sessions are available at lower price)