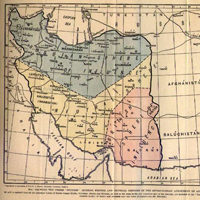 The Anglo-Russian Entente or the Anglo-Russian Convention of 1907 was an accord signed on 31 August 1907 in St. Petersburg by Count Alexander Izvolsky, Foreign Minister of the Russian Empire, and Sir Arthur Nicolson, Britain's ambassador in Russia.The convention capped off several decades of the Great Game between the two powers. It defined their respective spheres of influence in Persia, Afghanistan, and Tibet.
Persia was divided into three zones: a British zone in the south, a Russian zone in the north, and a narrow neutral zone serving as buffer in between.

در حالی‌ که جنبش مشروطه در ایران در دوران مظفرالدین شاه و محمد‌علی‌ شاه در جریان بود، دولت‌های روس و انگلیس مخفیانه مشغول گفت و گو دربارهٔ تقسیم ایران بودند. این گفت و گو‌ها به قرارداد ننگین ۱۹۰۷ بین روسیه و انگلیس منجر شد که طی‌ این قرارداد ایران به سه بخش جنوبی، تحت سلطهٔ انگلیس، شمالی، تحت سلطهٔ روسیه، و منطقهٔ بی‌ طرف مرکزی تقسیم شد. در این نشست دکتر رضا سعدی‌نژاد به گفت و گو دربارهٔ جزئیات این قرارداد، نحوهٔ شکل گیری و وقایع چشمگیر پیرامون آن، نظیر فتح تهران توسط مجاهدین مشروطه خواه، که برکناری محمد علی‌ شاه و به پادشاهی رسیدن احمد شاه جوان را در پی داشت می‌‌پردازد.