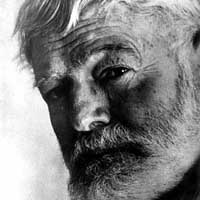 The next session cafe lit book club will be about three short stories of Ernest Hemingway. These three short stories are selected among the stories published in "The complete short stories of Ernest Hemingway".

The short stories are listed as follows:


My Old Man

The Killers


Today is Friday
While reading a book, a club member may reflect on these questions, and research other supplementary materials.
* Did you like the book? If you have read any of the author's other books, how does this compare?
* What is this book's message?
* How did you feel about the characters? Whom did you like or not like and why?
* What did you think of the ending?
* How did you feel when the character did or said....How do you think the character felt when she did or said...?
* What do book reviews say about this book or more generally the author, and his past works?
* What moral/ethical choices did the characters make? What did you think of those choices? How would you have chosen?
* What is the author's background (his style, stature and focus)?
* How does the setting figure as a character in the story?
* Are the characters' actions the result of freedom of choice or of destiny?
* Is there any moral responsibility that was abdicated?
* Are there any symbols that may have any references?
* What type of vision does the author use with his word choice? Is it optimistic, pessimistic, prophetic, cautionary, humourous, satirical, venomous, cathartic?
Also we will have a discussion about book clubs and we will select some books for our next readings.
If you have any suggestions please forward it to this message or discuss about it in the session.