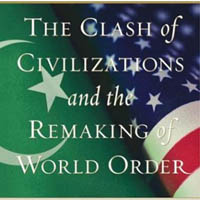 "Spurred by modernization, global politics is being reconfigured along cultural lines. Peoples and countries with similar cultures are coming together. Peoples and countries with different cultures are coming apart. Alignments defined by ideology and superpower relations are giving way to alignments defined by culture and civilization. Political boundaries are increasingly redrawn to coincide with cultural ones: ethnic, religious, and civilization. Cultural communities are replacing Gold War blocs, and the fault lines between civilizations are becoming the central lines of conflict in global politics. "
Samuel P. Huntington

"Sam Huntington, one of the west most eminent political scientist; presents a challenging framework for understanding the realities of global politics in the next century. The Clash of Civilizations and the Remaking of World Order is one of the most important books to have emerged since the end of the Cold War."
Henry A. Kissinger

"An intellectual tour de force: bold, imaginative, and provocative. A seminal work that will revolutionize our understanding of international affair."
Zbigniew Brzezinski

In this session, "A world of civilizations, The Shifting Balance of Civilizations, The Emerging Order of Civilizations, Clashes of Civilizations and The Future of Civilizations" would be discussed.