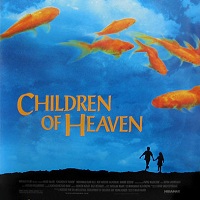 Dear Cinephiles/ Colleagues/ Friends,
Following the monthly video screening sessions of "Café Cinema", which has been focused on Iranian film history in a twelve session program, "Iranian Cinema Through the Ages", the 8th monthly video screening will present "Children of Heaven", a prominent film from Majid Majidi, Director of distinguished films as the likes of: "Father" (1996), "Color of Paradise" (1999), "Baran" (2001), "The willow tree" (2005) and "The song of sparrows" (2008) .
Synopsis: Zohre's shoes are gone; her older brother Ali lost them. They are poor, there are no shoes for Zohre until they come up with an idea: they will share one pair of shoes, Ali's. School awaits. Will the plan succeed?
Director: Majid Majidi
Production date:1997
Genre: Drama
Runtime: 89 min