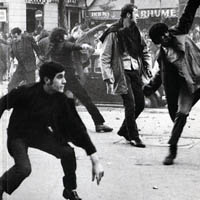 Alternative content
Download audio
It was a time of student unrest and student dreams around the world, yet the revolt that shook Paris in may 1968 stood out, perhaps because it seemed more romantic than others, perhaps it came so close to forcing the establishment out of power.
Indeed for an entire generation it was a personal watershed, an explosion of idealism that with the passage of time took the form of nostalgia for the impossible.
What remains today of may 1968. Eventhough it was a political failure for the protesters it had an enormous social impact. What lessons are to be drawn from this event in a time of economic crisis in our stagnating societies.