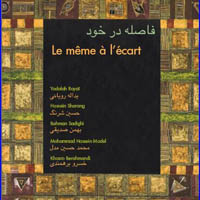 Le même à l'écart is a bilingual book in Farsi and French. The book features 40 of my paintings juxtaposed against 40 poems by four contemporary Iranian poets: Yadolah Royai, Hossein Sharang, Bahman Sadighi and Mohammad Hossein Model.

This very exciting project has occupied me for the last two years and now I am finally able to present it to the arts community.
در ماه مارس امسال، گالری و انتشارات کتاب ایران- کانادا " مکیک" نخستین کتاب خود را با نام فاصله درخود در اختیار دوستداران شعر و هنر قرار داد.
این کتاب شامل چهل تابلو نقاشی از خسرو برهمندی نقاش ایرانی مقیم مونترآل، و چهل شعر از چهار شاعر ایرانی: یداله رویایی، حسین شرنگ، بهمن صدیقی و محمد حسین مدل است.
شعرهای" فاصله در خود" که کتابی دو زبانه است، توسط بهمن صدیقی به فرانسه برگردانده شده است.
" فاصله در خود" روز سیزدهم ماه مارس با حضورخسرو برهمندی، بهمن صدیقی و حسین شرنگ درگالری مکیک معرفی شد.